"It's true... Blaire is a life saver. The alarm is INSANELY loud and hurts your ears. I was skeptical but I feel so much safer now. It arrived within 4 days, super fast shipping. I'm getting one for all my friends for Christmas."
- Sarah H.
Extremely Bright Strobe Light
It's Like Staring At The Sun...
Imagine looking at a flashlight and then multiplying that by 10. That is how bright this light is. It will blind attackers giving you enough time to escape their dangerous threat. This video doesn't do it justice... Staring at the sun is BLINDING. Yet it cannot be captured on camera... Blaire truly has a blinding light, use it with care. "One of the best ways to protect your daughters." "Revolutionary Greatness." "A small gadget, a huge solution." "A simple solution for protecting
our women workforce."
Protect Yourself And Your Loved Ones
You can feel peace of mind carrying Blaire and gifting it to loved ones. The last thing you want is anything to happen to you or the people you care about.
Deter Predators While Hiking...
Tested And Scientifically Studied.
Animals are extremely sensitive to sound. Even more sensitive to sound than people. At 130 decibels, there is no way a predator is sticking around. If you don't believe us, checkout this video of a bear running away from the ear piercing Blaire sound. We hope you never encounter a predator, Blaire is accessible when you need it most.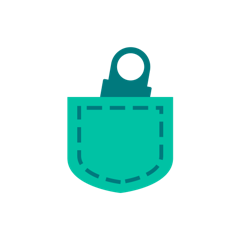 Blaire is so portable, it fits in your pocket. Bring it anywhere you go - during a workout or a girls night out.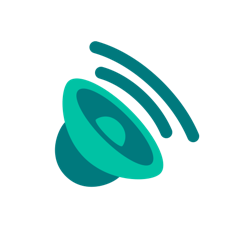 The loud alarm is measured at 130 decibels, which is nearly as loud as a gunshot from a rifle!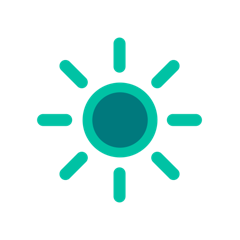 The blinding LED temporarily stuns any attackers. Proven to deter humans, bears, coyotes, and cougars.
We're Keeping Thousands Of Women Safe...
"I was followed by a black bear for 2 miles during one of my runs. I finally pulled my Blaire pin and it went running away! I can honestly say it saved my life."
"I often go home late at night because of work. With Blaire, I have the confidence to do so. The alarm is blaring and the light is enough to briefly blind anyone by surprise."
"Nothing is more important than keeping my 2 daughters safe. This gives me more confidence that they will be fine in their everyday lives even when out of my sights."
Frequently Asked Questions
We ship from our warehouses in the United States. We have GUARANTEED insured shipping!
2. How does the Blaire work?
Blaire personal safety alarm is designed to emit a blaring 130db siren that can briefly disorient an attacker just by pulling the circular pin. A few seconds is all it takes for you to secure yourself an opening to avoid danger.
3. Just how loud is Blaire?
130 Decibels is nearly as loud as a gunshot from a rifle! It's as loud as a jet engine 100 feet overhead. This has been proven to attract help, deter attackers, and deter wildlife.
4. How long can Blaire produce a loud alarm?
The device can be turned on and off by pulling and pushing the circular pin. The alarm can last for up to 40 minutes. That's enough time to catch the attention of anyone around in case of emergencies.
5. What if I don't like my Blaire?
We believe in our product so much that if you don't like your product or are not satisfied after 365 days of delivery. We offer a 100% money back guarantee, just send us back the product at your expense and we will refund your entire order!
6. What kind of batteries does Blaire use?
Blaire is powered by 2 x CR2032 batteries which are widely available at any department store.
7. How do I change the batteries in my Blaire?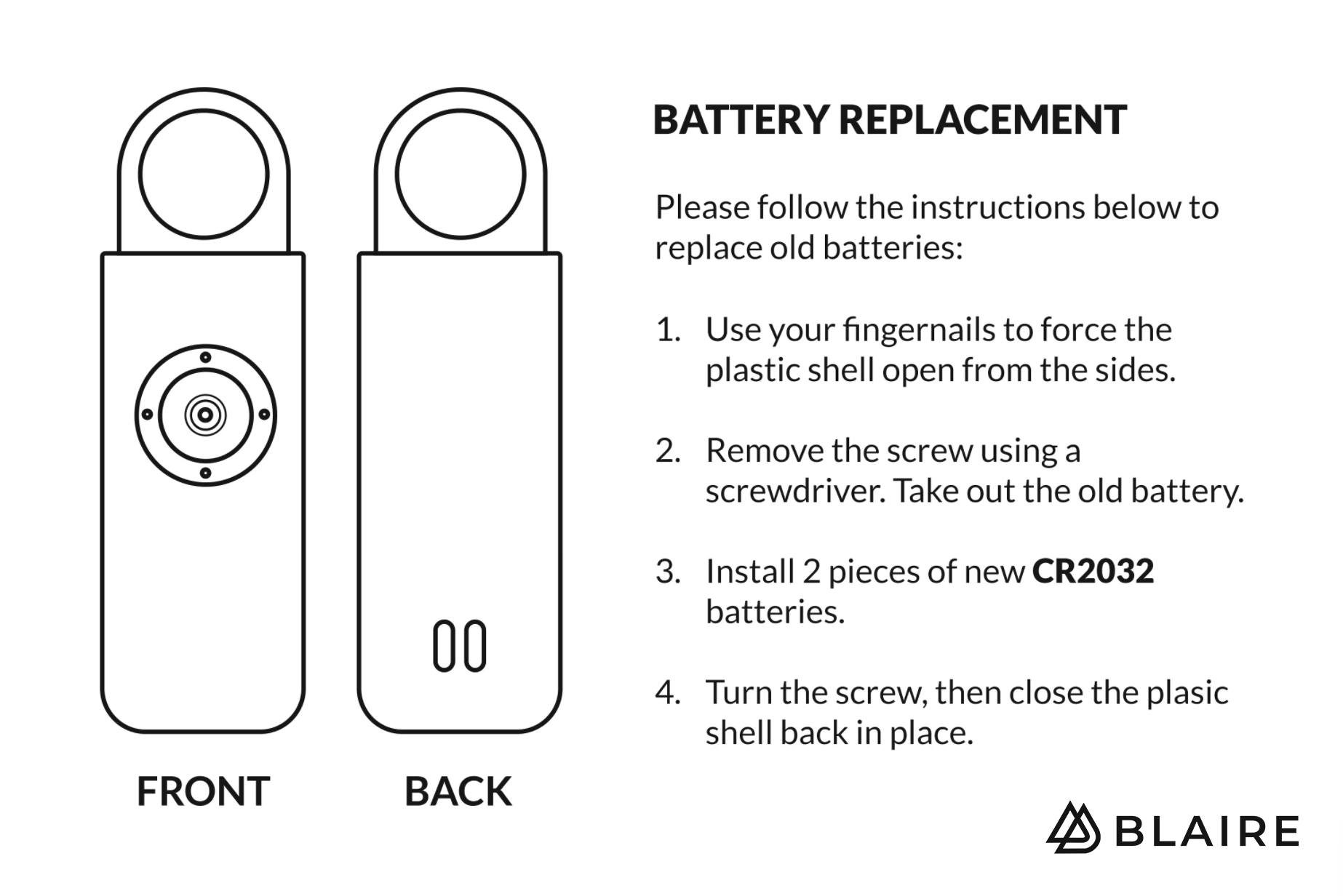 8. I have more questions?
Please contact our 24/7 support team at support@getblaire.com so we can assist you with any questions!